History
Plymouth Congregational Church
"Home of the Presbyterians"
The Plymouth Congregational Church was organized on April 11, 1894, by a committee of Congregationalists and Presbyterians (formed October 20, 1893) with the hope of serving the people of Paso Robles and San Miguel. They named it Plymouth Congregational Church and "Home of the Presbyterians." Services were conducted in homes, in an abandoned building, and for about six months, shared facilities of the First Christian Church.
The Reverend S.D. Belt, who was pastor in 1898, began the canvass for funds to build a new church at a time when Paso Robles had suffered a severe drought and money was scarce. On March 17, 1900, Reverend Belt died, leaving half of the amount needed to provided a modest building still to be raised. The fate of the new church was in balance until May of that year. At that point, a council held in San Francisco determined that a new minister should be called and the building program continued. In June, the reverend Francis W. Reed was called to service for Paso Robles and San Miguel.
Construction on the building (see picture top left) was completed in 1901 at a cost of $2,500 – including the furnishings! The congregation dedicated their new building on March 16-17, 1902. In 1920, during the pastorate of the Reverend Thomas Lineweaver, the church added the fellowship hall and Sunday school rooms.
1893 Organized as a church
1901 Completed construction on sanctuary at 13th and Oak Street, Paso Robles
1920 Fellowship Hall and Christian Education addition
1929 Parsonage constructed
1957 Plymouth Congregational Church voted to become a member congregation of the United Church of Christ
1998 Building Fire
2003 Building damaged during San Simeon Earthquake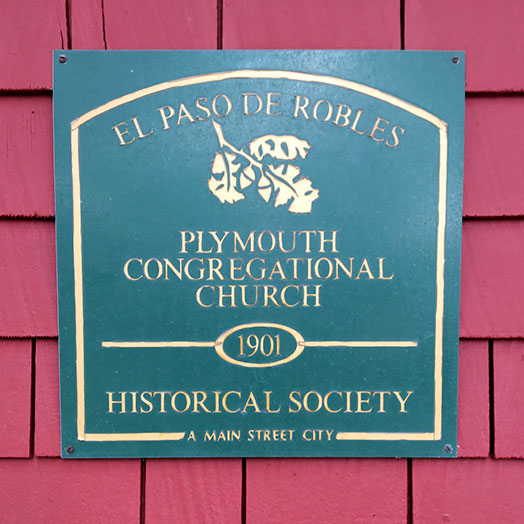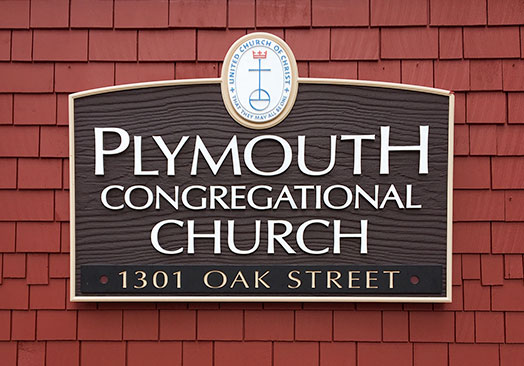 Early Years | Congregational & Presbyterian
Current | United Church of Christ
1894-1897 Reverend E.R. King
1898-1900 Reverend S.D. Belt
1900-mid-1920's Reverend Francis W. Reed, Reverends Ross, Singleton, George L. Marsh, T. M. Buley, George Willet, Lion Bliss and many supply ministers.
1929-?? Reverend Dr. J. Vincent Jones
1947-1963 Reverend Lester Pichett
1964-1971 Reverend Fenton Karnes
1972-1990 Reverend Lesie Allen
1991-2005 Reverend Jim Damewood
2006-2020 Reverend Steven C. Mabry, Ph.D.
Open-hearted and justice-seeking, we treasure all the generations of the beloved children of God through our practice of hospitality, our nurture of community, our willingness to learn, and our joy in putting it all to good use through service for the church and the world.